Project
Post-Christmas Knitting
Well, the holidays are long gone, and therefore Christmas knitting is once again put away until next year…
That is, right after I finish up the presents that I didn't get done! I am notorious for biting off more than I can chew and trying to make everyone something just right, and this year I just didn't quite make the deadline. Thus, I currently have two projects on the go that I need to finish up quickly and get to their respective recipients.
The first project is a scarf, One Row Handspun Scarf by Stephanie Pearl-McPhee, which I'm making for my Mom with some black Cascade 220. It's a really nice pattern that works up quickly, with just a four stitch repeat, so you can memorize it in the first couple of rows and not have to keep referring back. This also makes it an excellent travel project, as you don't have to worry about getting distracted and losing your place. I've included some photos of the scarf so far, where you can see that I'm roughly three-quarters finished. I just have to knit a few more rows and attach a fringe, and I'll be finished!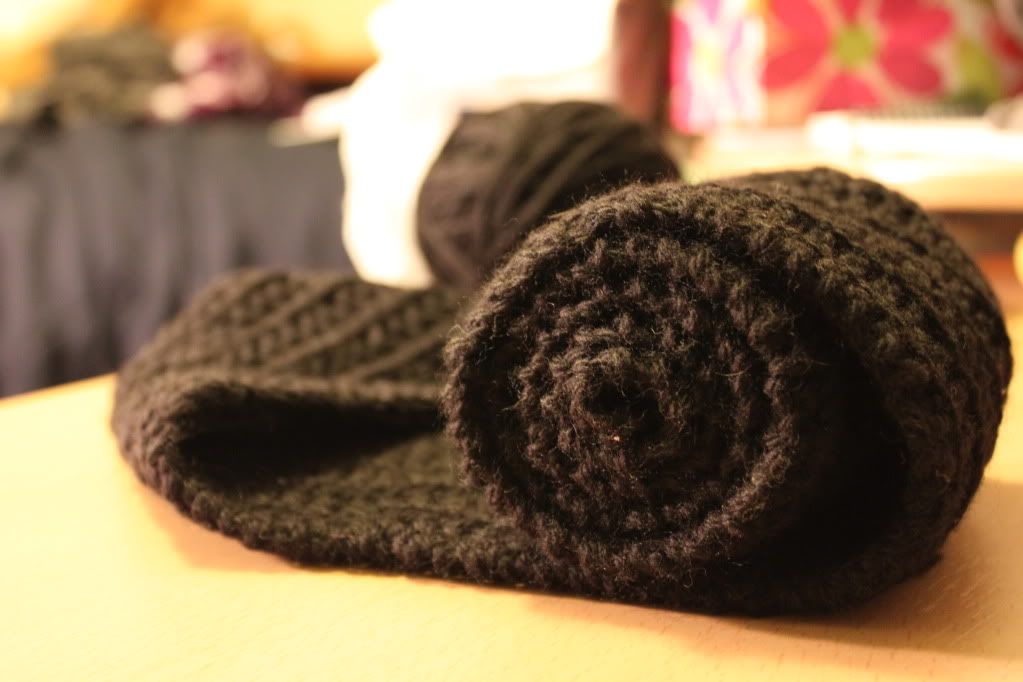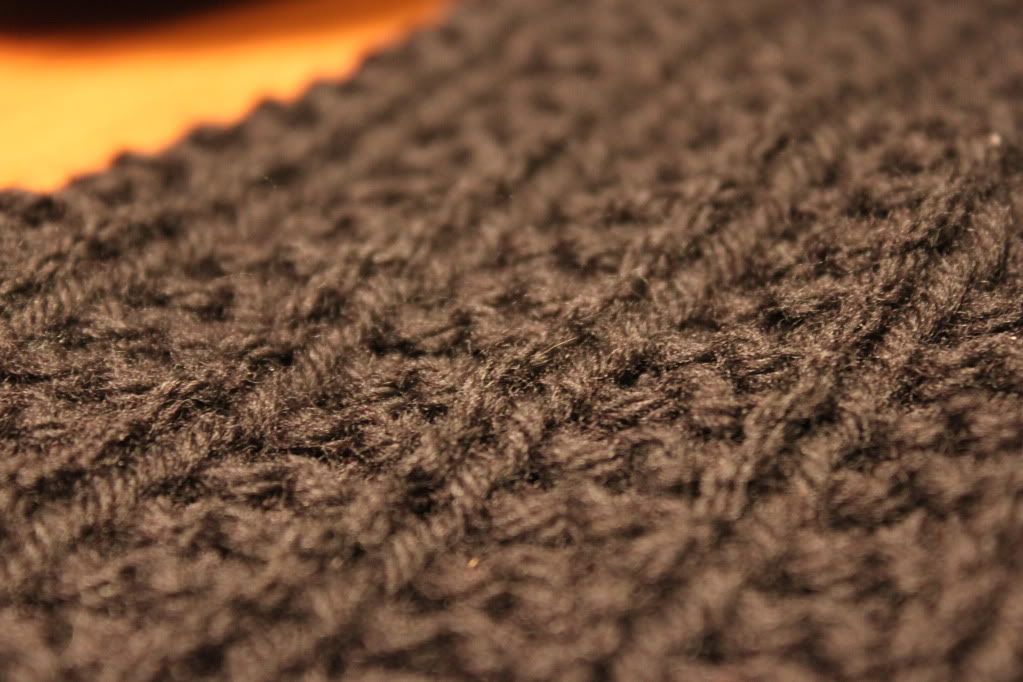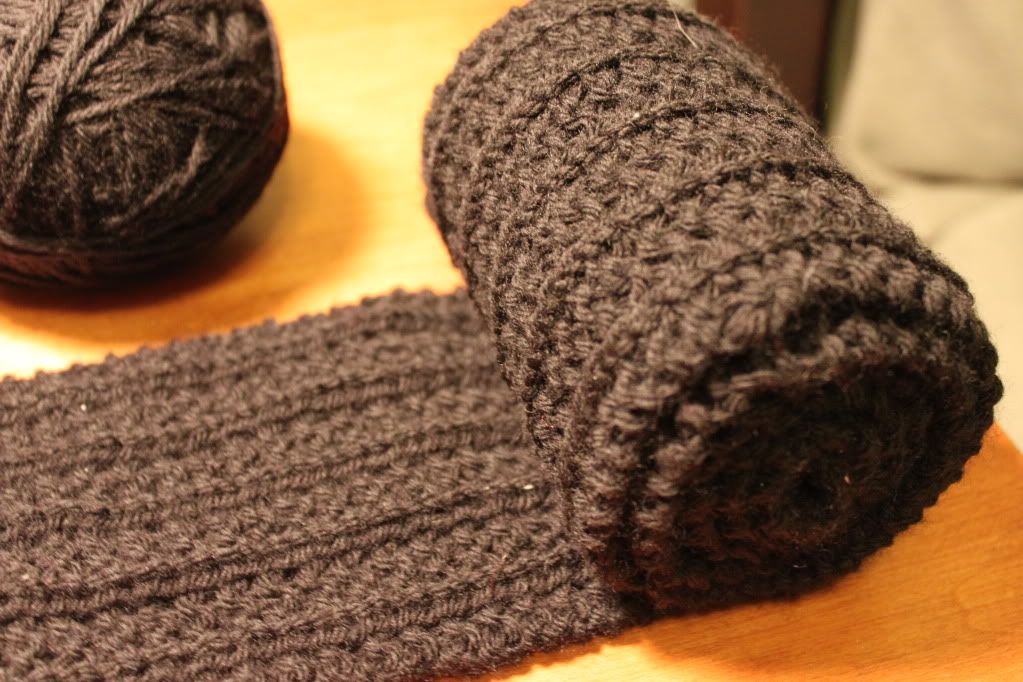 As you can see, it's coming along nicely, and I should (hopefully) be finished it in no time.
The second project that I am currently working on is a pair of socks for my girlfriend Taylor. They are orange and blue, a mix of Cascade 220 and Cascade 220 Heathers, and I am improvising the design as I go along with the help of a few life-saving knitting books. She's already seen them, as I wrapped up the one sock that I was finished to give to her on Christmas morning, so I won't be ruining any surprise here. I'm not too far into the second sock, about halfway, so I still have some work to do to finish these soon!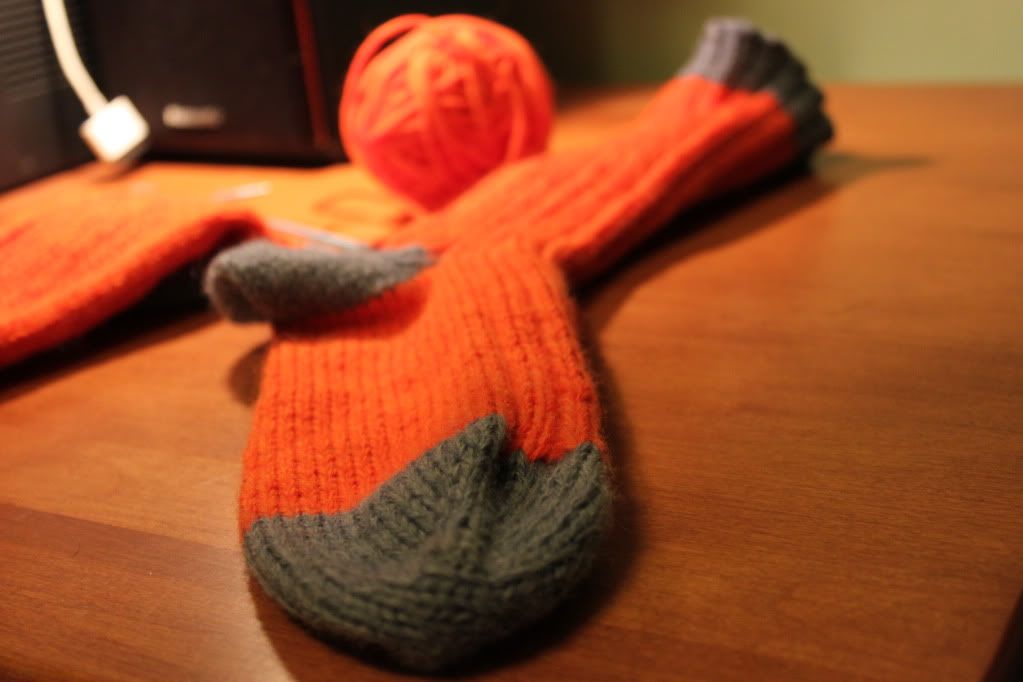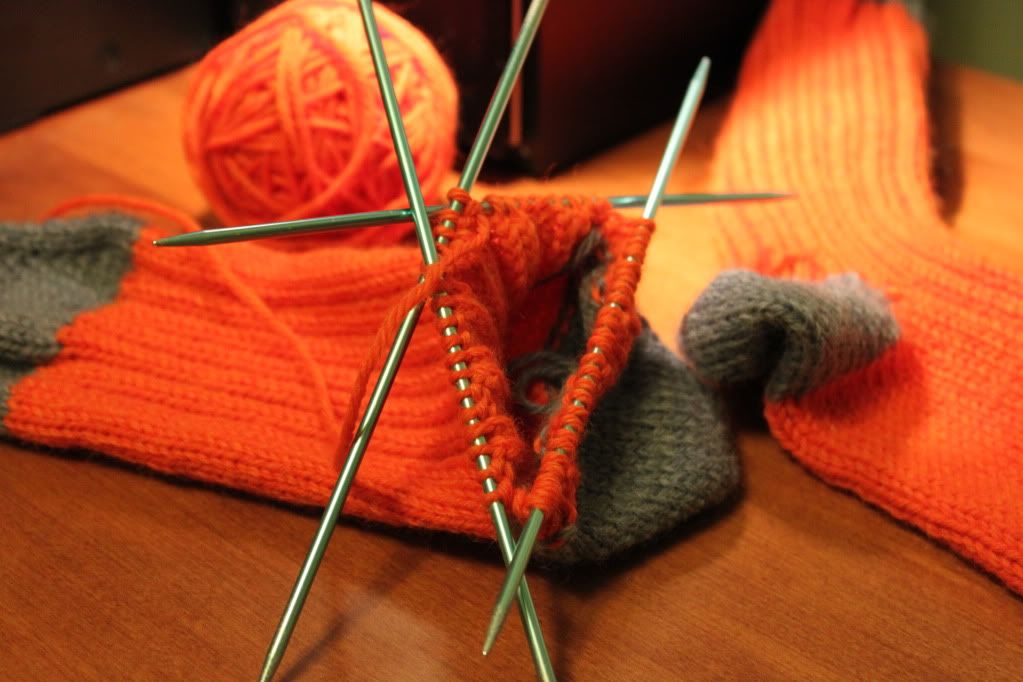 Overall, I'm a bit behind, but I'm well on my way to catching up, so I think I'll be OK - after all, exams are coming up, and what better way to procrastinate?
A(nother) Knitting Binge
So, over the past week or so, I've been on somewhat of a knitting binge. You know what I'm talking about… when you cast on with whatever yarn you see first, knit an insane amount, finishing a project (which should have taken a week) in a day or so, and then immediately cast on for another project. The cycle is hard to break, and at a certain point you realize, wow! I've done a lot of knitting recently! As well as, wow! My room is absolutely covered in yarn and knitting needles and notions.
The last thing I posted, about a week ago, was that I finished my pretty purple gloves, as well as a secret knitting bag that I can't yet post photos of. Since then, I've cast on for convertible mittens with my handspun yarn (photos will be posted when I'm done the project), knitted and created a pattern for JDRF mittens (I will explain more in a minute), knit a lace scarf out of some gorgeous variegated DK yarn I got for Christmas (again, more in a minute), as well as knit 2 dishcloths for my girlfriend's mom.
The JDRF mittens are something I've been meaning to make for a while. I went to Romni Wools in Toronto (if you haven't been: go! I can literally spend hours in there), where I got three skeins of worsted weight Galway to use. (In case you don't know what JDRF is, it stands for Juvenile Diabetes Research Foundation, and you can learn all about it here). The mittens were fairly quick to knit up, following a basic pattern, with JDRF colourwork. The pattern is currently being tested, but once that's finished I'll be selling the pattern, and all proceeds will be donated to the fantastic organization. Here's a photo to tide you over until then!
I also knit a lace scarf out of a gorgeous DK variegated yarn, called James C. Brett Marble. It is 100% acrylic, and so machine washable, so I don't have to worry when I wear it. I used the pattern Summer Shimmer Scarf by Purl Soho, which turned out beautifully, full of zigzags and colour.
So what's on my needles now? Currently, I'm knitting rainbow-coloured socks out of Regia 4 fadig sock-weight yarn. At this rate, who knows how soon they'll be finished?
Knitting Challenge Day 2
       What is currently on your needles?
       Well, right now I have two projects on the go, actually. The first is a test knit of a baby tunic that I'm working on, but it's not actually on my needles, as I'm just finishing it now. The second is the second mitten of a mitten pattern that I'm designing, and hope to be done soon!
       I will post photos of the test knit as soon as I'm finished. Promise!